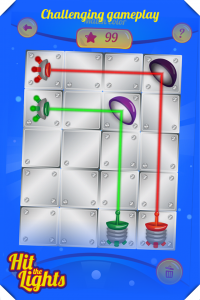 Well, it's been a while and today I am really happy to announce that my first game Hit The Lights is now live on the App Store. And what's important - you can download it for FREE! For those that didn't read my previous posts - Hit The Lights is a new take on laser puzzle, a challenging game for iPhone with a gameplay that reminds of and old, good "The Incredible Machine" series.
The goal of each level is simple – to connect laser emitters with corresponding receptors. You can find more information about a game on official web page or on the App Store. Some technical details. The game was implemented with a help of cocos2d v2.1, all interfaces were designed in CocosBuilder and texture atlases were done with TexturePacker. I must admit that without these tools it will be much harder to create this game, so I really recommend this toolset for every developer. The game was implemented using MVC pattern that I explained in my other posts.
Features:
80 challenging levels (more to come in future updates)
Stunning 2D cartoon graphics & animation
Original music by Justin Sandercoe
Highly polished gameplay
Game Center enabled
Achievements
Online leaderboards
In-game tutorial
I hope you like the game and will be a real fun for you to play it! Remember to follow the game fan pages to get notified about the updates. You can follow on Facebook or Twitter.
---